Dining Room Window Treatment Inspiration For Southern California Home
The dining room is the natural place where family and friends get together in your Southern California house. And most dining room windows let in natural light and some of the scenery. But when your goal is more privacy without forgoing energy efficiency and beauty, which window treatment works best in your dining room?
Here are three dining room window treatment ideas to help you choose.
Plantation Shutters For Dining Rooms In Southern California
Plantation shutters are a stylish window treatment for your dining room. The louvers are manufactured with function and beauty at the forefront. They allow you maximum control over brightness and the view. Control the shutter louvers with a tilt rod to let in the desired amount of view and brightness. And when the weather gets colder, shut these dining room shutters completely for maximum energy efficiency.
The best thing about plantation shutters? They can be custom crafted to the exact curves and angles of your dining room window. It doesn't matter if the window is a octagon, arched, triangle, or circle. Dining room shutters can be made to match your window seamlessly. Find out more about special shaped shutters.
Have dinner with friends and enjoy your choice of Polywood® or Ovation® wood shutters. Polywood shutters are made from a patented synthetic material that's guaranteed to never warp. Did we mention? Polywood is the highest rated window treatment for energy efficiency. And that's exactly what you need for windows in the dining room. Ovation shutters are made from hardwood and are available in 28 stains to match your furniture.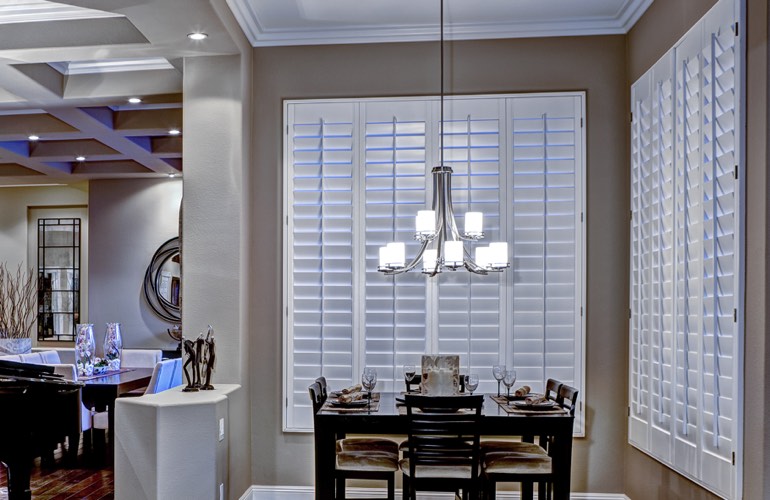 Photo credit Jane Cunningham www.roomresolutions.com
Sliding Barn Doors For Dining Room Windows In Southern California
One of the hottest new trends in interior decorating in Southern California is sliding barn doors. And now they can be set up on the windows in your dining room!
If there's space on either side of your dining room windows, sliding barn doors are the modern window treatment you've been looking for. When closed, they're a stunning piece of art. When you open them, sliding barn door shutters frame the scenery outside your dining room charmingly. And with a selection of hardware options to choose from, you can coordinate the look of your barn door shutters with your dining room [decor|furniture|style]89]. Learn more about sliding barn doors for windows.
Shades For Dining Rooms In Southern California
Shades are a classic dining room window treatment. They're easy to install and operate. And you can selectfrom an array of fabrics and patterns to match the shades to the decor in your dining room.
However, this customization may come at the cost of brightness and climate control. The fabric the shades are made of may not be able to block out the light effectively. And the material may be thin enough that it won't block the impact of the natural elements.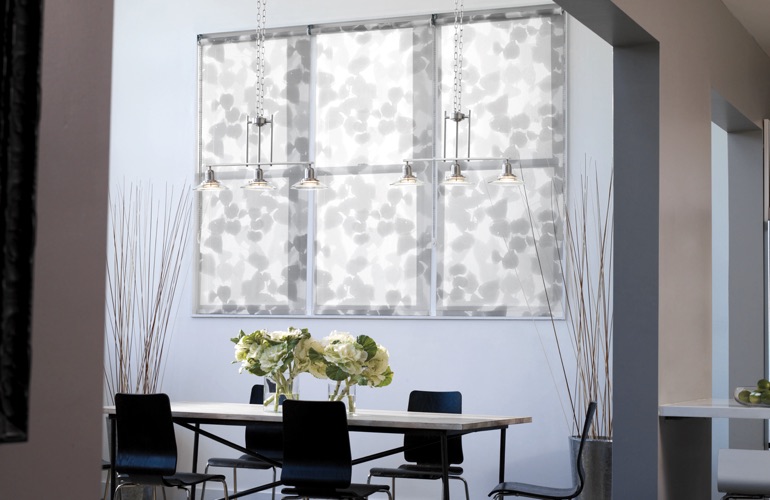 Looking For More Dining Room Window Treatment Ideas In Southern California?
Browse our idea gallery of window treatment pictures we've installed in the Southern California area. And when you're ready to purchase dining room window treatments or window treatments for other places in your house, our professionals will find a time to come out to your house and present your with examples of the window treatment you're interested in. We'll also note the dimensions of your windows. This way, when we mount your brand dining room window treatment, it looks beautiful and operates seamlessly. Give us a call at 888-611-2474 or fill out the form below to schedule your free in-home design consultation today!